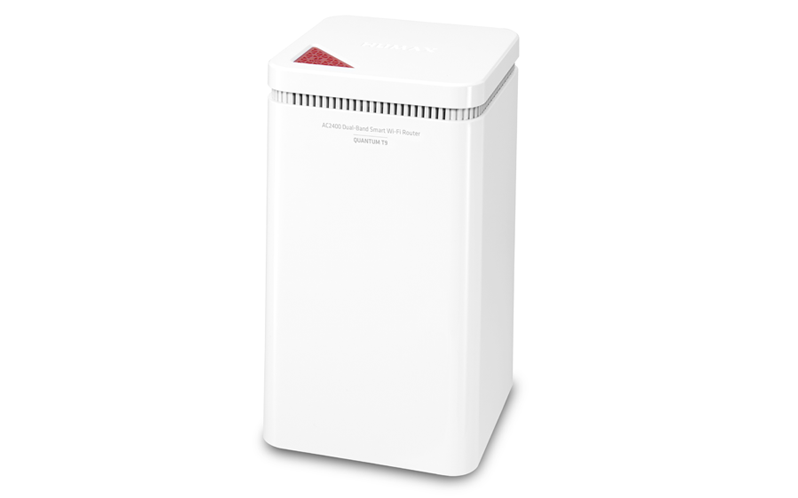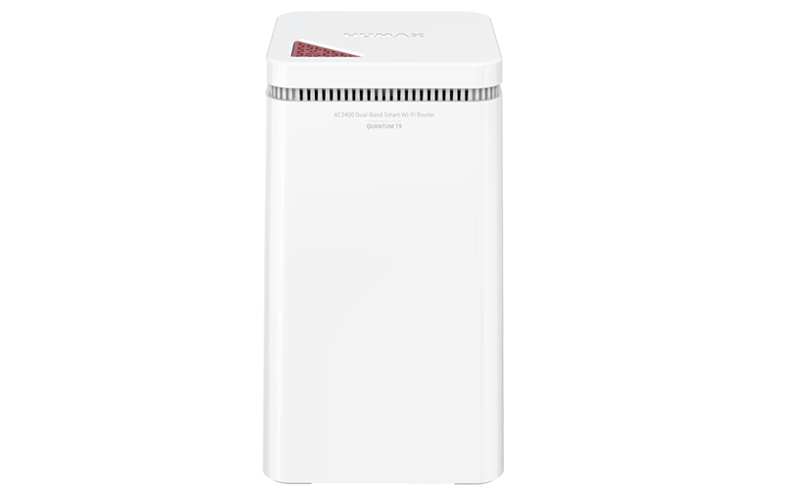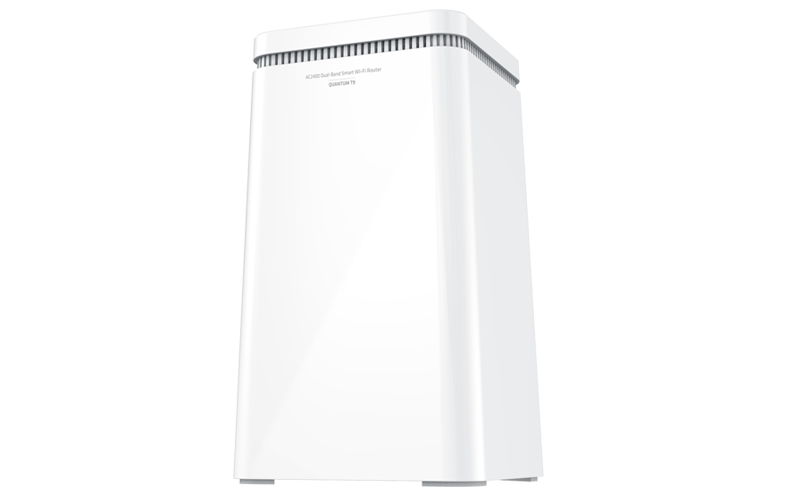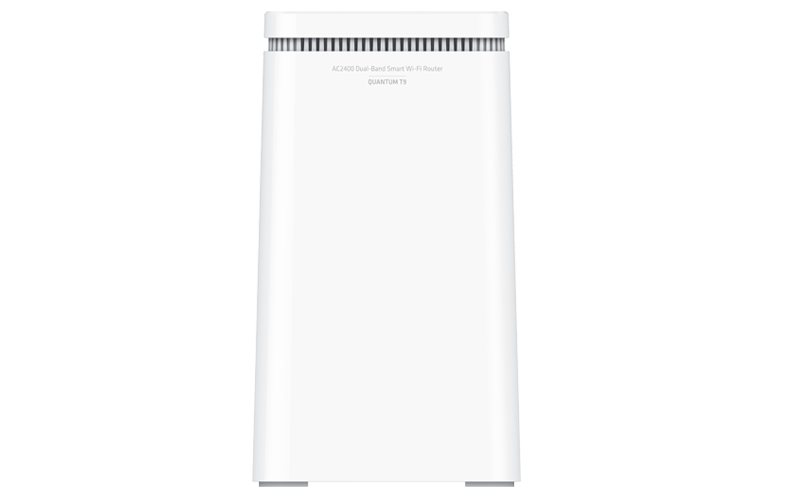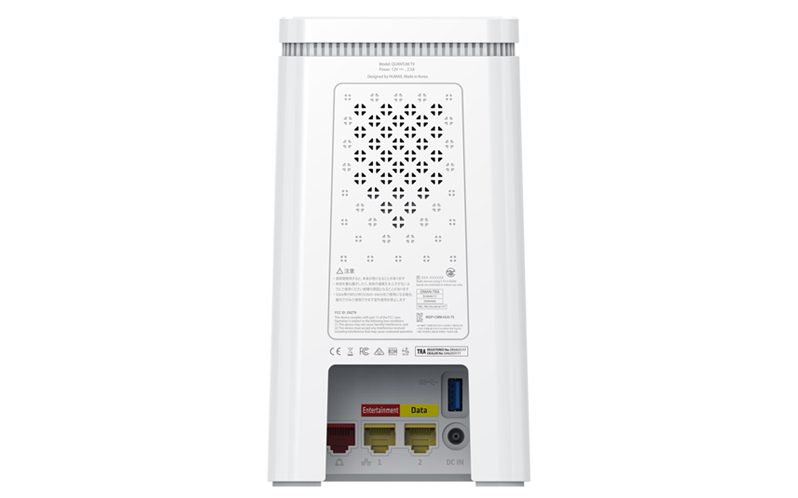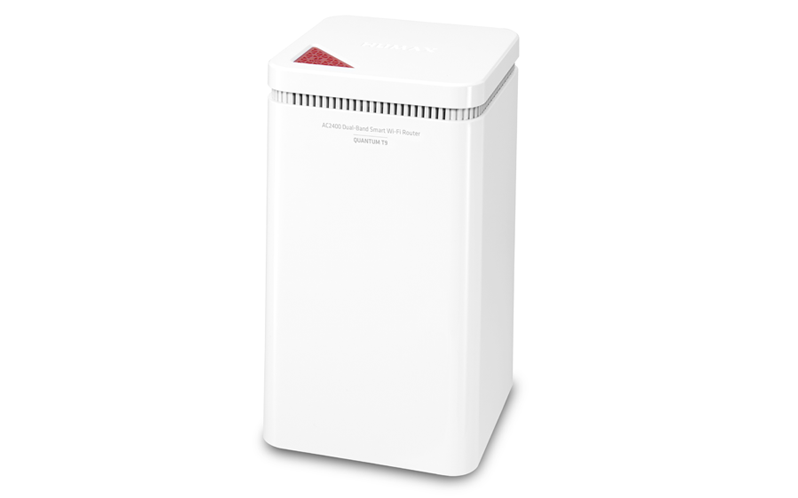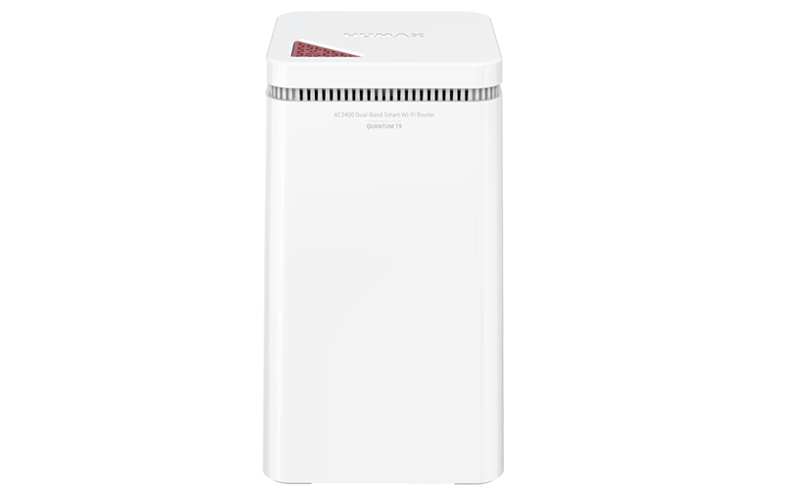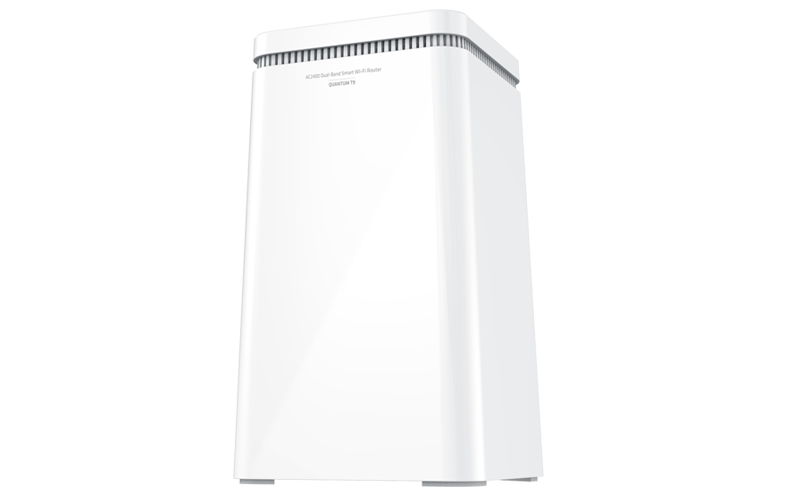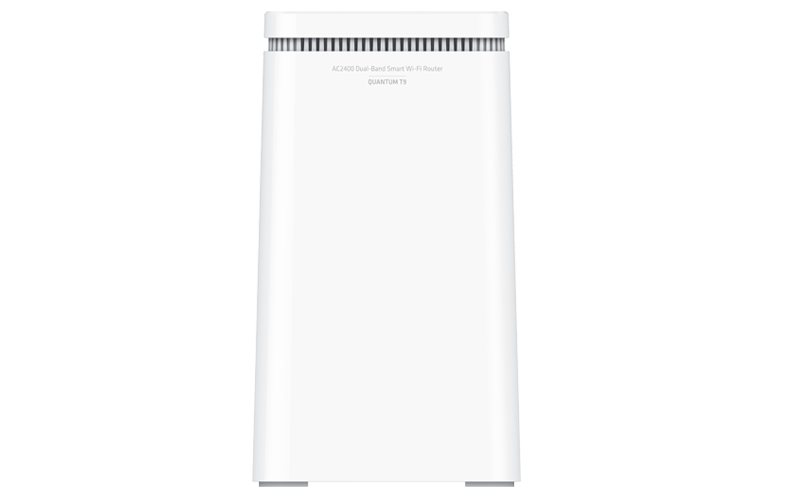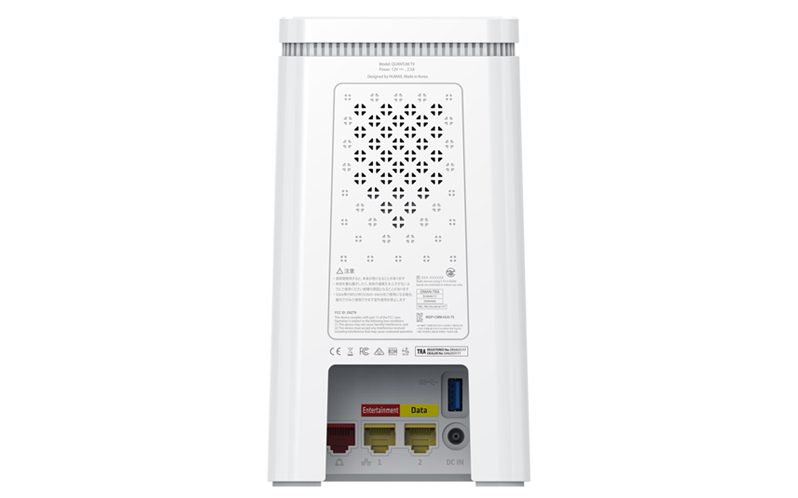 AC2400-Hochleistungs-Wi-Fi Router mit maximierter Sicherheit
Wi-Fi Class: AC2400 (600Mbps at 2.4GHz, 1800Mbps at 5GHz)
Three(3) 10/100/1000 Mbps- 1 WAN & 2 LAN Gigabit Ethernet ports
USB3.0 Port für Media-Sharing und Netzwerkdrucker
Erweitertes WLAN: MAC ON THE FLY-Architektur
MU-MIMO – WLAN-Signal mit hoher Bandbreite für mehrere Geräte gleichzeitig
AnyClient Strahlenformung – gewährleistet maximale WLAN-Abdeckung für alle verbundenen 128 Clients
VPN Server & Client unterstützen sicheren Remotezugriff für Datenschutz
USB3.0 Port für Media-Sharing und Netzwerk Drucker Server
IPv6-Support (Internet Protocol Version 6)
OpenWRT – Linux-basiertes Betriebssystem mit zusätzlicher Benutzerdefinierung und weiteren Funktionen
Lernen Sie QUANTUM T9 kennen!
QUANTUM T9 verfügt über LED-Beleuchtung,
die Ihr WLAN-Heimnetzwerk bequemer macht und
dessen Mehrwert erhöht, in modernem und trendigem Design.
Erweiterte Wi-Fi: MAC ON THE FLY -Architektur
Smarter WLAN-Pakettransport mit erweiterter MAC ON THE FLY -Architektur, die den WLAN-Durchsatz auch bei hoher Client-Nutzung aufrechterhält.
QUANTUM T9 multi-client Gain 25%+ VS. Competition's AP with 15 clients
Device list
– Samsung Galaxy S5, Xiaomi MI3, Apple iPhone 6, Asus Zenfone Selfie, Google Nexus 5X, Samsung Galaxy S7, Xiaomi MI Note, Apple iPad Air 2, Apple iPhone 6s, HTC One M9, Samsung Galaxy S6, Xiaomi MI4i, Apple iPad Mini 4, Apple iPhone 5s, Microsoft Surface 3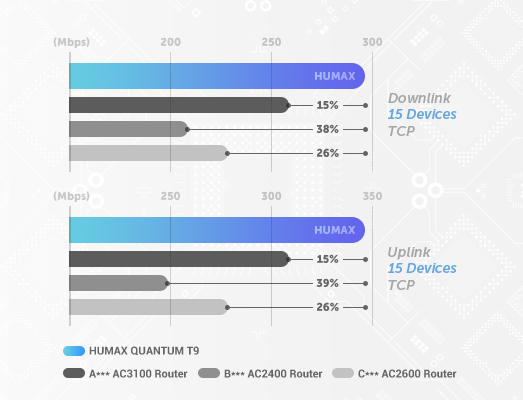 Leistungsstarke Sicherheit zum Schutz Ihres digitalen Lebens
HUMAX Netsafe von McAfee™ bietet die stärkste Online-Sicherheit durch Kombination von automatischer Schwachstellenerkennung, Blockierung gefährlicher Webseiten und Kindersicherung.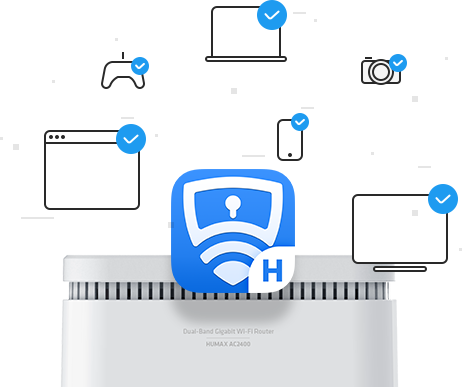 Höchste USB3.0-Geschwindigkeit
und Vielseitigkeit
Hochleistungsspeichersoftware von Tuxera
verbessert die Datenübertragungsgeschwindigkeiten für USB3.0
MU-MIMO für pausenlose Unterhaltung auf all Ihren Geräten
Die QUANTUM T9 erzeugt nicht nur ein schnelleres WLAN, sondern trägt durch effizientere Kommunikation zu einer optimalen Leistung Ihrer Geräte bei. Mit MU-MIMO-Technologie kann T9 vier simultane Datenströme bereitstellen, damit alle verbundenen Geräte eine bis zu 4X Geschwindigkeit als Standard-AC-Router erreichen.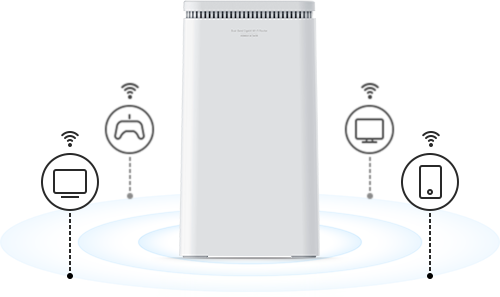 2.4Gbps


Enhanced Parental Control


Dual Core


Intelligent QoS


MU-MIMO


Easy Sharing


Beamforming


Network Printer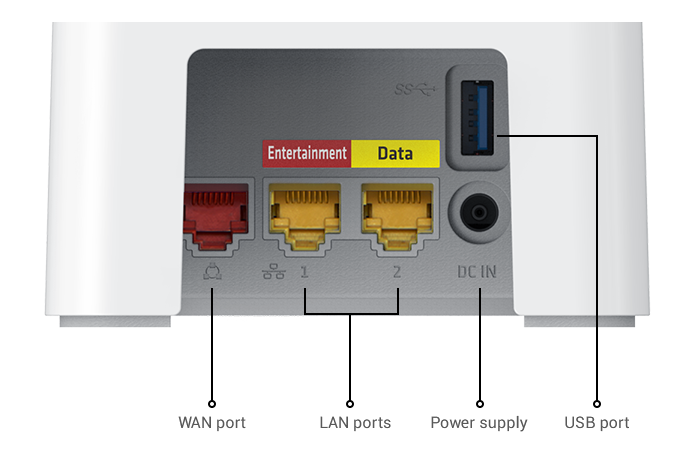 TECH-SPEC
Technische Daten

Produktkategorie
AC2400 Dual Band Smart Wi-Fi Router
Wi-Fi Technilogie
IEEE 802.11ac/n/a 5GHz, IEEE 802.11b/g/n 2.4GHz
Wi-Fi Leistung
600Mbps at 2.4GHz, 1733Mbps at 5GHz
Wi-Fi Bandbreite
Simultaneous dual band 2.4 & 5GHz
Antennen
Internal 2.4GHz 3T3R / 5G 4T4R
Erweiterte Wi-Fi Technologie
1) CPU Offload, 2) Flexible packet transmission, 3) Multi client performance.
MU-MIMO
Multiple devices to get high-bandwidth Wi-Fi signal at the same time.
Beamforming
AnyClient Beamforming - Ensure maximum Wi-Fi coverage to all of the 128 clients connected.
Anzahl der Ethernet Ports
Five (3) 10/100/1000 (1 WAN and 2 LAN) Gigabit Ethernet ports
Anzahl der USB Ports
One (1) USB 3.0 port - Ultimate USB3.0 Speed powered by Tuxera
Hauptmerkmal
• AC2400 Wi-Fi (600+1800 Mbps) speeds
• Dual core Hexa CPU with hardware accelerator for ultimate performance when downloading movies, playing games, and streaming 4K content.
• MU-MIMO - Multiple devices to get high-bandwidth Wi-Fi signal at the same time.
• AnyClient Beamforming - Ensure maximum Wi-Fi coverage to all of the 128 clients connected.
• Device Prioritization(QoS) - Automatically recognizes & prioritizes streaming & gaming applications.
• Parental Controls to manage web filtering & accessibility by service or devices.
• Entertainment Port - Works as its optimal level to give you a super-smooth, uninterrupted streaming and gaming experience.
• Efficient antenna layout design minimizes signal interference and maximizes wireless performance.
• One (1) USB 3.0 port for high speed network data transfers between the router and any USB drive, powered by Tuxera
• Built-in Print Server – Supports wireless printing from multiple computers.
• Built-in Media Server – Allows users to play music, video and view photos.
• Three (3) Gigabit Ethernet ports - Speeds can be up to 10 times faster than Fast Ethernet.
• HUMAX Wi-Fi® App - Allows easy network management at your fingertips.
• VPN Server & Client - Secures remote access for privacy.
• Easy Web UI - Ensures a quick installation, making your network setup out of hassle.
• Easy Setup - Assistant with multi-language support provides quick & hassle-free installation.
• Guest network Access - Provides separate Wi-Fi network for your guest.
• IPv6 support ready (Internet Protocol Versio
Sicherheit
• Secure Wi-Fi Encryption - WPA-PSK, WPA2-PSK, WEP(64/128bit), WPS
• Guest network Access - Provides separate Wi-Fi network for your guest.
• Double firewall protection (SPI and NAT)
• Parental Controls to manage web filtering & accessibility by service or devices.
• Firewall protection - MAC/IP/Port/URL Filtering, Port forwarding, DMZ and more.
Prozessor
1.2GHz dual-core
Speicher
128MB flash and 512MB RAM
Physikalische Spezifikationen
• Dimensions (WxDxH): 4.1x4.1x7.3 in. (105x105x185 mm)
• Weight: 1.84lb (835g)
Lieferumfang
• QUANTUM T9
• Power Adapter, localized to country of sale
• Ethernet Cable
• Quick Start Guide
Systemanforderungen
Microsoft® Windows 7, 8, 8.1, 10, Vista®, XP®, 2000, Mac OS®, UNIX®, or Linux®
Microsoft® Internet Explorer® 5.0, Firefox® 2.0, Safari® 1.4, or Google Chrome™ 11.0 browsers or higher